International Women's Day
From adventurers and pioneers of the past to the change-makers of the future, Burberry continues its commitment to enabling women to go beyond.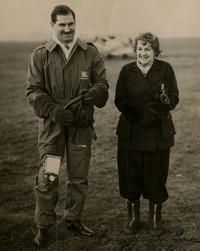 Betty Kirby-Green
A pioneering aviator, Betty Kirby-Green flew from Croydon to Cape Town in a plane called 'The Burberry'. Pictured here in 1937 alongside Flying Officer Arthur Clouston.
Mildred Bruce
The first woman to fly solo around the world, Mildred is pictured here in 1931 in her aeroplane 'Bluebird'.
Inspiring the Next Generation
For International Women's Day 2022, Burberry is partnering once again with the National Literacy Trust. Our donation will provide bespoke literature, selected from a curated International Women's Day booklist, to participating schools in the Marcus Rashford school library project.



Through supporting this initiative, we encourage girls to expand their literary horizons and to be inspired by female authors whose work encourages them to dream big. Through the power of imagination, we want to enable girls of a young age to envision a future where they can be anything they want.